Performance Project, Creative Technologies, Audience Letters
Hello I'm Yiota and I'm raising £3000.00 to develop my performance project (SEE BELOW), which uses audience love letters as the main content of the piece. I'm specifically seeking funds to develop technologies that will make the dress I wear during the performance, narrate past audience letters (written during previous performances of the piece), once present-day audience's interact with it.  My aim is to make the dress I wear in Love Letters into a storytelling object.
A little about the performance project:
Love Letters is an ongoing project (since 2012) that has toured international performance festivals ( Performing Documents (2012), Performance and Live Art Platform (2012, 2014), Tempting Failure (2013, 2014), Latitude (2015), and iDocs (2016)).  Reviews about the piece have been published both online and print in Vice Live Art Almanac Vol. 4 and EXEUNT magazine .
In the performance audience members are invited to write anonymous love letters to a significant other and deposit these in the performance space. These capture an experience of platonic, familial and lustful emotion. Letters about a moment in time; letters to old friends, old lovers; letters about falling love, or love that can never work. Letters of pain, that speak of loss….Letters to family…
They then pick a past audience letter from the exhibited collection, read it aloud and attach it to my dress. At the end of the performance, the dress I wear is full of audience love letters. In each performance past audience letters are revisited and new love letters are added to the collection.
WHAT WE AIM TO PRODUCE:
In collaboration with Sound Artist Stathis and Creative Technologist Odysseas we would like to redevelop the letter writing, and technological interactions of the dress as a storytelling object, towards building on the audience-led experience.
We aim to make an interactive sound installation using creative technologies - a speaking attachment to the dress - that will enable it to speak the letters contributed by its past audiences as a reaction triggered by the interaction with present audiences.
We need your help to redevelop this! We aim is to raise enough funds to develop the technology for the piece  to build on an audience led experience of sharing memories.
We have planned two public events to showcase this work. One in the UK at Centrespace Gallery (Bristol) and one in Zagreb at the Museum of Broken Relationships (Croatia), where we intend to donate the entire audience love letters for collection once the project is completed.
It is important to us that the letters audiences have entrusted us with in each performance are preserved in a safe and loving space, for other people to read and appreciate.  We need your financial support to do this!
WHO WE ARE:
We are 3 individuals from different fields (Performance, Music, Computer Science/Engineering) with the attempt to merge our ideas on the relationship between technology, performance and audience, towards finding crossovers between our work, for further interdisciplinary dialogues between artists, researchers and technologists. We aspire to develop something amazing and that will truly have an impact to voicing people's stories!
Stories whatever their content or form are important to us.
Dr Panayiota Demetriou or Yiota (Performer/Lead Artist) (PhD, UoB) is the PDRA for research centre Making Books: Creativity, Print Culture, and the Digital , at Bath Spa University, where she also lectures in Performance and Cultural Geography. Yiota is a Live Art practitioner, performance art photographer and initiator of Performance & Live Art Platform Cyprus.
Odysseas Pappas (Electronics Engineer/Creative Technologist) is currently pursuing a PhD at the Centre for Doctoral Training (CDT) in Communications at University of Bristol. His interests include Human-Computer interaction and the interfacing of art and technology.
Stathis Kampylis is a composer and sound artist. He is currently studying for a PhD at University of Bristol in Electroacoustic Composition.
Where will the money go?
What will you spend the funding on if you hit your minimum?
Developing the technology that will be attached to the costume, which will enable the garment to speak.
Where will the money go if you hit your full target?
To developing the technology; showcasing the work-in-process at the Pervasive Media Studio (Bristol), as well as the production of the performance at Centrespace Gallery.
What will you do with extra funds if things really take off and you raise more than your target?
We will create a video of the project and start thinking about how the technology we will build can be used in cultural heritage settings.
How often will you give updates on progress when you're running your project or campaign?
Fortnightly!
Rewards
With every donation of:
£20.00 you will receive a social high five! We'll thank you by Tweet, Facebook, Video (Vine).
£50.00 your name will be included in the programme of our exhibition - to say thank you for making this happen!
£150.00 + you will receive a package containing:
- A thank you note for supporting the project (your name will be put on our press material as a sponsor).
- A personal invitation to the performance exhibition.
- A valuable and original love letter souvenir from my personal collection (only 15 of these will be made), on handcrafted paper, printed by hand using a hand printing press. This will be part of a SURPRISE SONIC EXPERIENCE.
- Alongside this, you will receive, instructions on how to encounter, experience and read the letter.
If you don't feel like contributing financially, that's cool too but please share this page and the vid. It would help us immensely. Maybe you would like to send us a love letter instead***!
***Send love letters (addressed to a significant other) to p.demetriou@gmail.com, subject line "love letter donation".
Images and video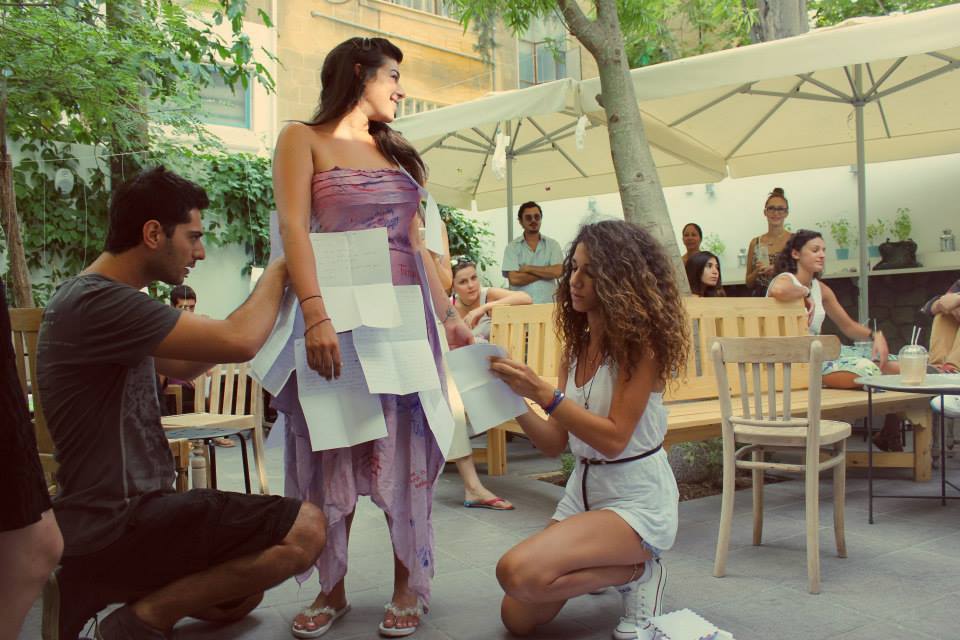 Find us here
@yiota_demetriou
https://www.bathspa.ac.uk/projects/love-letters/
p.demetriou@bathspa.ac.uk
Help us succeed!
Supporters